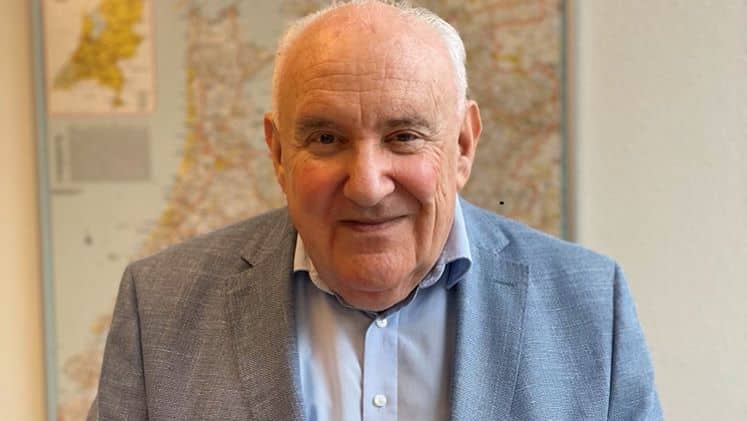 Oppenheim Travel is celebrating its 50th anniversary. Steven Oppenheim (owner Oppenheim Travel): 'I was wrong about the phenomenon of ZRAs, because there are very big revenue makers among them.'
Before 1973, Steven had an insurance office in his parents' attic. That ran so well at one point that he had to start hiring employees. His father was retired, so he always had people over at his house. Steven says his father never complained about it, but he was particularly annoyed that he was causing a nuisance. Oppenheim: "So I started looking for my own office space until at one point I ran into an acquaintance on the street. I thought she looked bad and there was a reason for that. The grocer whose service apartment she rented was going to quit so she had to move out of her home. She put me in touch with the owner of the property. Eventually I rented the property and she was able to continue living in the house. But the property had a store in addition to an office. One of my now two employees, before going into insurance, worked in the travel industry and gave me the idea to start a travel agency out of the store area. Oppenheim says in retrospect that he was quite naive in this. 'I remember very innocently calling KLM asking if I could get an agency, haha. Of course that didn't go so easily. But I had already realized that there was no other travel company in the area of the store. So I persevered with the plan. My first agency was with FIT from Eindhoven with Mr. Van Gennip, I remember that well. The first trip I sold was to Israel. It became an instant success, until I became overconfident. I had been to Thailand on my honeymoon and when I got home I thought I could offer this destination as well. I thought the same thing when traveling to America. These are just two examples, but it failed because I thought I could do this on the side. You really need a lot of knowledge to launch new destinations. I didn't realize that at the time.
Big revenue makers
The travel industry has a lot to contend with. Asked how Oppenheim has experienced that, he says, "Indeed, you have to be able to withstand that by also having a buffer. First you have to make sure that you never end up at the Dispute Commission. Above all, you have to make sure that you stand behind your product and that everyone is satisfied. This should be 99.99% successful, because that's what you want. Even if someone books a one-way trip to, say, Cairo and we never see that person again, they should still think back to us satisfied. That has always been our starting point and still is. Oppenheim also says he did not believe in the rise of ZRAs. 'Before, everyone booked with a brick-and-mortar travel agency; ZRAs didn't exist back then. To be honest, I didn't believe in this phenomenon. As a ZRA you make the first bookings easily for family and friends, and after that? But I was wrong about that, because ZRAs are doing great. There are very big revenue makers among them.'
Focus
Oppenheim Travel focuses primarily on Israel, Egypt and Jordan, but has offered more destinations in the past. Oppenheim reveals that he has found out that the saying "Shoemaker, stick to your last" also applies to him. 'This is why we continue to focus primarily on these three countries, as well as sales through ZRAs and travel agents. After all, I don't believe in companies that offer dozens of destinations and then dare to call themselves specialists. You really don't just have the specific know-how. That doesn't enter my mind. And if you do, then you also immediately have a whole room full of product managers et cetera. I think that's a very big risk, because you have to pay all those people as well."
As the only
'Our trips are in the luxury segment, which does not mean that the trips should also be expensive. We focus on the niche market, for example, being the only one, as far as I know, to fly direct to Cairo. Travelers are picked up at the airport and completely pampered with a private driver, assistant and private guide. Then there are the sightseeing tours, which are great and accompanied by Dutch-speaking guides. This is one example, but we can offer this because we have been offering these destinations for 50 years and have established valuable contacts, which of course includes Israel and Jordan."
Travel Retail
Oppenheim reveals that he should not think to sell his offerings only b2c. He says, "If I want to reach consumers directly, I have to advertise nationwide with huge budgets. Now I only have to do that in Travelpro and TravMagazine, haha. Travel retail is essential to us. We don't compete with them either; on the contrary, we are a very agent-friendly travel organization. With us, a travel consultant doesn't have to wait three weeks for an offer, it arrives within two days. The phone is always answered within one minute and an e-mail is also answered very quickly. On my business card is also my 06 number, because really anyone can and may call me. Even if you call in the middle of the night, I answer. I can say that because I stand behind the product and know I won't be called because everything is going well.'
Largest open-air museum
'It is sometimes said that you must have seen Naples before you die. I say you really must have seen Jerusalem. Of course Cairo is also very fascinating with the pyramids and the soon-to-open Grand Egyptian Museum, which is really world-class, and Jordan with its highlights Petra and Wadi Rum is incredibly beautiful, but Jerusalem for me is the greatest open-air museum in the world, where the three world religions meet."
Hobby
Steven Oppenheim was 26 years old when he started Oppenheim Travel. The company is now 50 years old, which means he has officially reached retirement age. But he doesn't think about quitting. 'My work is my hobby, and as long as my health allows, I will keep going. I still enjoy it way too much. The point is also that if I wanted to quit, I really want my people to be well taken care of. If someone comes my way who wants to take over the business, the ladies have to think it's a good idea, too, or it won't happen.'
TravMagazine spoke to Steven Oppenheim a few days before the situation in Israel/Gaza Strip, which is why this article is out of date. In addition, easyJet has since stopped flying to Aqaba in Jordan. The destination with which Oppenheim Travel wanted to celebrate its 50th anniversary in a big way. Because of this joyous occasion, the travel company came up with a special treat: a vacation to versatile Aqaba at rock-bottom prices, you can read more about it in the paper version of TravMagazine. 'That's incredibly unfortunate that easyJet has stopped flying to Aqaba, so we can't 'hand out' our special treat. says Steven Oppenheim. 'It's hugely galling, also because we had already received bookings. We unfortunately cannot change it. I do expect Jordan and Israel to run like old times again in the longer term. For now, we are focusing on luxury travel to Egypt.
Read more in TravMagazine of Oct. 27 (week 43).